Team building and group flights
Teambuilding: gather your troops around a motivating challenge!
The balloon is a powerful entertainment tool that reinforces group identity. Balloon Revolution-EvénementCiel offers you, as part of your seminars, an outdoor team activity in the spirit of a team building. An ideal formula to get together with colleagues and employees around an original outdoor activity.
Depending on the size of your group, we provide you with the number of balloons and crews you need. <strong>Your teams meet for a unique day with the challenge of preparation and balloon flight</strong>. This is the opportunity to gather your staff around the unifying values of ballooning: freedom, ecology, authenticity, innovation and team spirit.
Depending on the number of participants, crews of +/- 8 people are formed around each balloon. The activity lasts about one hour per team:
general briefing, handing out of a guide book and allocation of the positions of each one,
weather analysis and wind estimation,
assembly of the nacelle and testing of the burner,
assembling and swelling the envelope,
checklist and ascent for a free or captive flight (depending on the weather).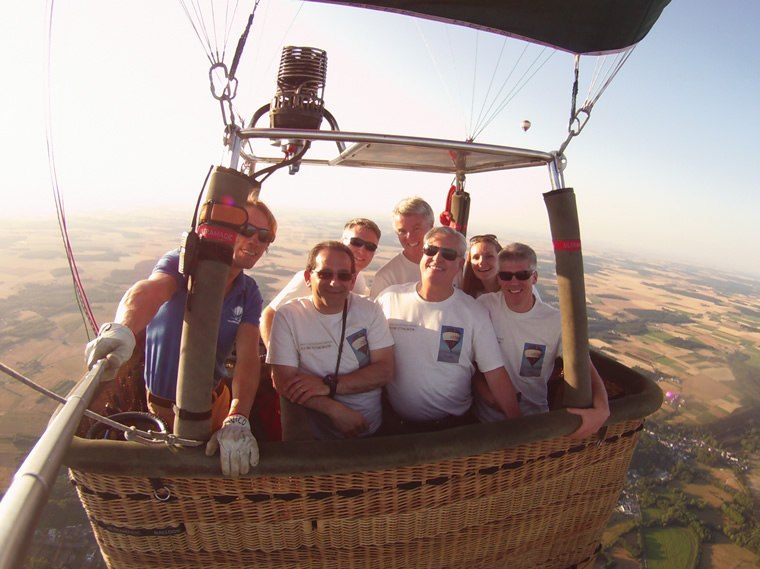 Group flight: the adventure begins!
We organise tailor-made flights for groups of any size.
Typical program for 3 hours of adventure, including one hour of flight:
Passenger reception and dispatching
Weather report and preparations for take-off, souvenir photo of passengers inside the envelope and the basket
Take-off for an hour-of-wind flight
Graduation ceremony and traditional toast of the balloonists
Return to the meeting point in the 4x4 vehicles
We also offer transfer services from the group, from the hotel to the take-off site, as well as the organization of a country buffet on landing.
In case of weather cancellation, the service can be replaced by a helicopter baptism or reimbursed for a fee.